Wilderness Fish & Game is a full service hunting, fishing and outdoor sports store dedicated to making outdoor adventures more meaningful.
______________________________
The Tradition Continues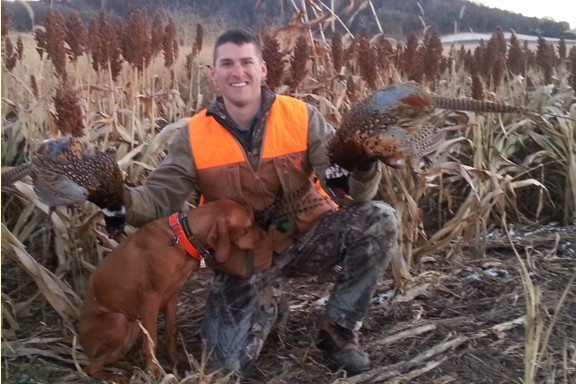 Owner Tom Lochner & Luna
_______________________________
We Proudly Sponsor
Find the lastest info on seminars and in-store specials.
---
WFG Staff

L-R Tom Lochner, Larry Wipperfurth, Chuck Pohlman, Wayne Whitemarsh, Wally Banfi.
Wilderness Fish and Game staff are avid hunters and fishermen. Not only do you get advice on top name brands in guns, fishing equipment and outdoor sports, you'll get the local insiders view of hunting and fishing in the Wisconsin River Valley and beyond.
___________________________
Useful Web Links
Ace Sauk Prairie
Cayuse Shop
Sauk Prairie Chamber
DNR Licenses
Rivers Edge Cards, Crafts Collectibles
Rivers Edge Floral
Rivers Edge Mall
Roxbury Trap & Skeet Club
Sauk Prairie Trap & Skeet Club
---
Live Bait
Wilderness Fish and Game has live bait year round. From Minnows to Red Worms, Nite Crawlers to Leeches. For a list of what we sell, click live bait.
Special Events
__________________________________
Other Events
New Archery Manager Jesse Vanderbilt has joined Wilderness Fish and Game's Staff as our Archery Manager. Jesse worked previously at Gander Mountain in Bara-boo for over 10 years. He is an avid turkey and deer bow hunter. He is knowledgeable in all lines of Archery and Cross Bows and can offer on-site repairs and service for all Archery equipment. Take the time to introduce yourself to Jesse the next time you're in Wilderness Fish and Game.
______________________
In-House Gunsmith
Gary Brock, In-House Gunsmith
Time to get your gun repaired after gun hunting season. Call now. (608) 370-8013
Gary Engberg, one of Southern Wisconsin's premiere outdoor enthusiast discusses weekly topics of interest. This week's topic is: "Catching Muskies on the Lower Wisconsin River".
Photo Courtesy of Gary Engberg
I live on the Lower Wisconsin River, about five miles downriver from the Prairie du Sac Dam which is the last dam on the Wisconsin River when heading toward the Mississippi River. Below the Prairie Dam are the twin cities of Prairie du Sac and Sauk City or Sauk Prairie. From the dam, the Wisconsin River flows unobstructed to the convergence with the Mississippi River at Prairie du Chien, some 85 miles downriver. Above the Prairie du Sac Dam and to the north is Lake Wisconsin, which is a flowage of the river that flows south and west from the dam at Wisconsin Dells. I am trying to give you a little history on how the popula-tion of muskies in the Wisconsin River and the Lower Wisconsin River got there and have been steadily reproducing during the last decade.
Photo Courtesy Gary Engberg
There is a fishable population of muskies in the area below the Prairie du Sac Dam to the Highway 12 Bridge and in lesser num-bers from Highway 12 downriver (Lower Wisconsin River) to the Mississippi River. Muskies are being caught with regularity in this three or four mile stretch below the dam by casting, trolling, and "soaking suckers." This is where I suggest muskie angler's fish for legal size and even some muskies of trophy size. Some of the river's muskies have come from Lake Wisconsin during periods of extremely high water and to a lesser extent other muskies have traveled up from the Mississippi River and joined the local fishery. The DNR is regularly stocking Lake Wisconsin with muskies which is adding to the growing number of fish above and below the dam. Now, muskies are relatively common and anglers who want to try a new body of water should find time to experiment and fish the Wisconsin River. I know of many fish from 36" to 46" caught the last few years with a few even larger and above the "magical" 50 inch mark.
Read more by clicking on River Currents.