Wilderness Fish & Game is a full service hunting, fishing and outdoor sports store dedicated to making outdoor adventures more meaningful.
Like Us on Facebook
Web Partners
Ace Sauk Prairie
Cayuse Shop
Sauk Prairie Chamber
Gary Enberg Outdoors
DNR Licenses
Rivers Edge Cards, Crafts Collectibles
Rivers Edge Floral
Rivers Edge Mall
Roxbury Trap & Skeet Club
Sauk Prairie Trap & Skeet Club
---
WFG Staff

L-R Wally Banfi, Wayne Whitemarsh, Larry Wipperfurth
Wilderness Fish and Game staff are avid hunters and fishermen. Not only do you get advice on top name brands in guns, fishing equipment and outdoor sports, you'll get the local insiders view of hunting and fishing in the Wisconsin River Valley and beyond.
___________________________
The Tradition Continues
New Owner, Tom Lochner
Wilderness Fish and Game and Sauk Prairie Gunsmith are proud to annouce that the business started by Jerry and Elaine Lochner, has been sold to their grandson, Tom Lochner, to carry on and expand the business.
Tom is lifelong musky and bass nut, bow hunter and wing shooter, and is excited to start the next chapter in the life of the store. Stop in to say hello and get the latest fishing and hunting reports and meet Tom in person and maybe his 2 year old bird dog Luna.
Turkey Guns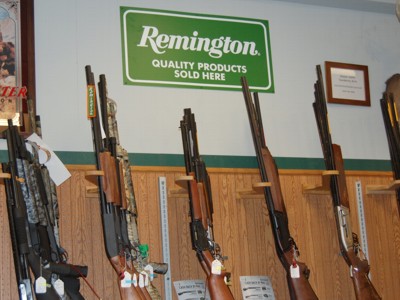 Wilderness Fish and Game carries a wide assortment of Turkey guns and a large sup-ply of ammunition for any hunt-ing trip. We carry all the top brand names in firearms and repairs are easy with our in-house gunsmith at Sauk Prairie Gun-smith. If you need repairs to your firearm, contact us at:
The new phone # for Sauk Prairie Gunsmith is (608) 370-8013.
Contact: Sauk Prairie Gunsmith
__________________________
Fishing
Have you been in Wilderess Fish and Game lately? We have have a completely new look to our fishing department.
We have a great inventory of Musky lures and Musky rods as we have never before! No need to shop the near and far as Wilderness Fish and Game is dedicated more store face to the Musky Fisherman.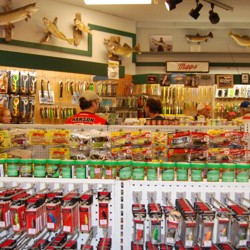 Photo courtesy of Gary Engberg
Gary Engberg, one of Southern Wiscon-sin's premiere outdoor nthusiast discusses weekly topics of interest. This weeks topic is "Springtime Crappies On Lake Wisconsin". For more on this topic, read River Currents.
Photo courtesy of Gary Engberg
If you are looking for some eating size crappies and some larger slabs, then Colum-bia Countys Lake Wisconsin is the place to go in the spring. We all know that this has been a tough spring with inconsis-tent weather which has made most fishing hot and cold. It is the middle of May and last night we had even had frost in south central Wisconsin! But, the weather looks like it is going to change for the better and hopefully that means better fishing for all species.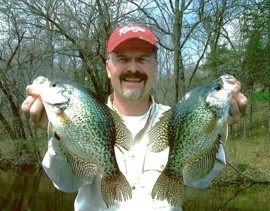 Crappie fishing starts soon after the ice leaves the lake in late March (in a normal year) and steadily improves after the water temperature hits the magic 50 degree mark.
Lake Wisconsin has plenty of choice crappie structure in its numerous shallow bays with dark bottoms that the sun warms quickly attracting hungry crappies. Crappies will move into the bays for the warmer water and forage early in the spring and later spawn when the temperature reaches the low to mid 60s. Concentrate your efforts near brush piles, around any shoreline cover, by fallen trees, and around and under the lakes many docks and piers. There are a few scattered
weeds in some bays, but the constant water flow prevents weeds from growing in
most of the lake.
Read more on "Springtime Crappie Fishing On Lake Wisconsin" by clicking River Currents.